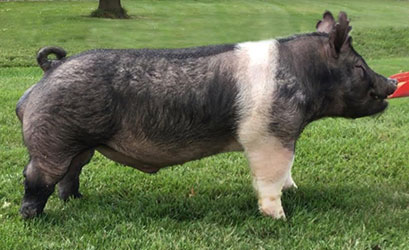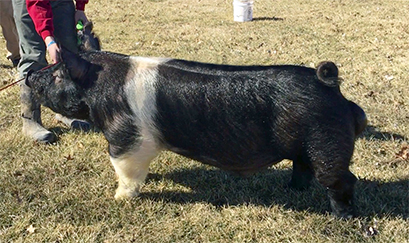 Sire: Thunderstruck
Dam: Score
Semen Price: $175/Dose, $100/Dose Overrun
Ear Notch: 51-5
Registration: 493495005
REALLY UNIQUE – STOUT FEATURED,
SHAPE, BODY, SOUNDNESS, & LOOK!!
This very unique Hampshire boar is a breed changer and has been a favorite amongst visitors since he was three months old. You want to talk about today's model, this guy is it! THUNDERMAN has an elevated shoulder and front-end that ties-in perfectly with ultra-cool neck and head, but still has a stout boar skull. This boar has monster bone and foot with the perfect angles on both ends. This guy offers a thick, square package from his blade, across his top and back into his full rump. He is as square built as any we have ever seen. What a boar – great big top and hip, big-legged, massive center-rib, super sound and an up headed, cocky showring look. Flat-out good!