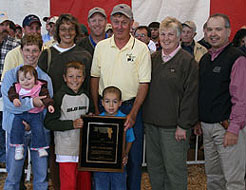 Cain Super Sires is a family-run business that has been producing top quality breeding stock and show pigs for over 40 years. Currently, our operation consists of approximately 125 registered Hampshire sows (Top Recorder of Hampshire hogs in the U.S.), 175 crossbred sows, 40 Yorkshire sows, and 15 Duroc sows as well as a group of superior sires housed in the boar stud. We farrow year around to maintain a large selection of boars, open & bred gilts, and show pigs. In addition to selling breeding livestock and show pigs, we offer semen on all boars.
The Cain Family continues to travel over the United States to exhibit genetically proven breeding stock at the national shows as well as consigning championship caliber show pigs online and private-treaty. We feel the show ring helps us stay aware of the trends in type and find the genetics that can help us and our customers end up in the winner's circle. Click on champions to see a few of our past champions.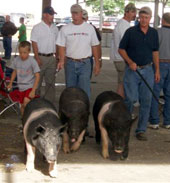 In addition to viewing and purchasing our breeding stock and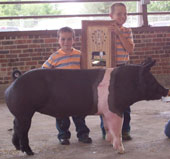 show pigs on the road, we encourage you to personally visit the operation to make your private treaty purchases. At Cain Super Sires, we enjoy showing you the prospects you want to see and answering any questions that will assist in choosing your next selection. However, we realize that many of you are unable to travel hundreds of miles to see what we have available. Consequently, give us a call to discuss the prospects you are interested in and we will send you an e-mail attachment, video, or mail the pictures of a potential prospects. We, at Cain Super Sires, thank you for the opportunity to share our operation with you.
To provide our customers with the highest quality semen, breeding stock, and show pigs in both the club pig and commercial swine industry.

Thanks for visiting the website of Cain Super Sires, the largest breeder of purebred Hampshires in the United States and the home of superior Crossbreds, Yorkshires, & Durocs. We specialize in selling semen from the top show pig sires as well as producing purple ribbon show pig prospects & the best breeding stock you can buy. Simply - we sell boars, open & bred gilts, show pigs, and semen.

Earl, Lee and Dusty are looking forward to working with you. Boar semen and breeding stock are available year around and we specifically breed over 200 sows for fall and spring farrowings to produce championship quality show pigs. Call today to reserve your semen and/or show pigs.

We are glad you came to visit our web site. Call or e-mail us if you have any questions, need assistance in choosing a sire, or need more information to help you make your selection.

Earl, Lee & Dusty