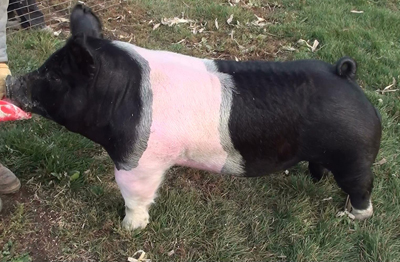 Sire: Real Tree
Dam: Beltway
OUTCROSS TO MOST HAMPSHIRE PEDIGREES!
EN: 82-2
Registration: 486472002
MOSSY OAK is smokin' good and a very impressive Hampshire boar! This guy is remarkably stout; huge legged; massive, wide top; thick, square hip; big center rib; and that up-headed, well balanced look to put you on top. MOSSY OAK is ultra wide and square from the ground up and has impeccable feet and legs. We need more Hampshires to look like this guy – most folks think his a crossbred when they see him. Additionally, for you Hampshire enthusiasts, MOSSY OAK is an outcross to 99% of the Hampshires out there! No Augusta, Point Taken, Point Given, etc. in his pedigree. Look out because this boar is going to make a huge splash in the Hampshire breed.